Though the Zenna Home 7402AL that I bought is perfect in many ways, and like most shower caddies, it has one design flaw – the crevices on the base of the shelves are too wide that makes shampoo and conditioner bottles tip over. It's real frustrating because if you have multiple bottles in your shower caddy aside from your shampoos and conditioners like shaving cream and other whatnot, just one tipped bottle can produce a domino effect thus tipping the other bottles. What's more frustrating is that it happened to me every single day until I found a nifty trick to prevent bottles in shower caddies from titling.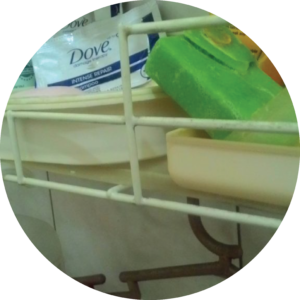 The nifty trick I'm talking about to stop bottles in your shower caddy from tipping is by placing a solid base cover on the baskets that cover the crevices. The solid base that we're going to use will be an old vinyl placemat. But if you don't have an unused vinyl placemat lying around your house, you can use any other waterproof and solid object as a substitute. The finished product will look like the image on the right – notice the solid semi-transparent base on the shower caddy's basket. It's an effective method because since then, my shower essentials bottles stopped tilting.
First and foremost, we need to gather the necessary materials to help you prevent shower caddy bottles from tipping over. The materials we need includes, of course, an old vinyl placemat or anything related, a ruler or tape measure, a pencil or any writing material, scissors, and a puncher that you normally find at any office supplies store. After gathering the required materials, use the three steps mentioned below to create a base to cover your shower caddy's crevices.
Step #1: Measure the dimensions of your shower caddy basket's base using a ruler or tape. You may want to leave half an inch of allowance to make sure that the final output will fit in the base of your shower caddy's shelves. Half an inch of allowance is no big deal since no bottle is sized half an inch anyways.
Step #2: Plot the dimensions you measured on the placemat using a pencil or any writing material to serve as guidelines when you're in the process of cutting the shower caddy base cover. Depending on the size of your shower caddy basket and the placemat itself, you can fit one up to three shower caddy base covers in one unused placemat. After plotting, cut out your shower caddy base cover by following the guidelines you plotted.
Step #3: After cutting out the shower caddy base cover, double check if it fits your shower caddy baskets. Adjust and cut disproportions if needed. After confirming that it snugly fits your shower caddy shelves' bases, punch holes on the placemat or whatever material you used using a puncher. These holes can be in an orderly table fashion or just randomly punched anywhere on the material. The punched holes will serve as drains for water so that it doesn't accumulate on the solid base. You can also punch holes on the corners of your base cover so you can zip tie them to your shower caddy.
There you go. In just three simple steps using materials, you'll usually find in your home, you've created an ingenious solution to prevent your bathroom essentials in bottles from tipping over in your shower caddy. Moreover, if you want to be more creative in this project, you can purchase placemats that have unique designs to add zing to your shower caddy or to contemplate your bathroom's motif like bamboo placemats.