Portable bath caddies, or shower totes, are super useful when you live in college dormitories, travel often, or go to the gym once in a while because they give the full functionality of a shower caddy only more portable. On the last review, the Mayin LLC Mesh Shower Tote was placed in the limelight to be scrutinized, and it passed with flying colors because there are no cons or negatives that you can attribute to the product. The only con you can find on the product is perhaps the one that depends on your preference.
Now. There might be some of you that may want a solid and sturdy shower caddy and not a flimsy-like one like the Mayin LLC Shower Tote. If you're one of them, a plastic shower caddy that you can consider is the InterDesign Orbz.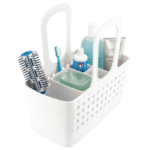 The makers of the InterDesign Orbz is, well, InterDesign. The USA-based company, InterDesign, Inc., is a housewares design and marketing company that was erected last 1974. InterDesign's main goal is to sell innovative home products at a reasonable price. The company has a diverse product line that includes bathroom solutions like, of course, shower caddies and other bathroom accessories. InterDesign also manufactures and sells kitchen and storage solutions aside from their bathroom-related products.
The InterDesign Orbz has five different color variants: black, coral, lemon, mint, and white. Despite its color variant, the plastic shower caddy also has three different "makes": small, small-divided, and medium. The small and medium looks the same; the only difference is their sizes. On the other hand, the small divided make has a three-compartment divider in the middle that contains a shallow compartment and two deep ones. The InterDesign Orbz also has a ledge just before meeting the other side of the body that is perfect for razors and toothbrushes.
| Classification | Dimensions (in.) | Weight (lbs.) | Latest Price |
| --- | --- | --- | --- |
| Shower Tote | 05.80 x 11.60 x 12.10 | 00.60 | VIEW AT AMAZON |
The InterDesign Orbz is a plastic shower caddy made of durable materials and has built-in handles for that extra portability. Like its mesh counterpart, it also has holes at the bottom that allows water to drain without much human intervention.
Also like the Mayin, LLC Mesh Shower Tote, the InterDesign Orbz is hands down a great product as evident by the massive positive reviews it garnered in Amazon.
We can compare the InterDesign Orbz to a mug you just bought. If you bought a mug whether cheap or expensive, the only thing that matters is if that mug fulfills its main purpose – to hold drinking liquids. If that mug achieves its purpose, most likely you're going to rate that mug five out of five stars. But sometimes there are people who prefer a lighter mug, a mug with thinner or thicker handles, and so on. Those people are going to deduct one or two stars from their rating of the mug because they didn't like it in general.
The premise above is the same with the InterDesign Orbz (and the Mayin, LLC Mesh Shower Tote for that matter) because it's a no-brainer product that has no frills and contains no anti-rusting technology or whatever. People are going to rate the product five stars in most cases, but they will sometimes rate it lower because of preference.
I don't personally own the InterDesign Orbz, but I've read enough Amazon reviews to arrive at the conclusion that the shower tote is really good. Thus, I'm rating it five out of five stars. Purchase the InterDesign Orbz if you want a solid, sturdy, and reliable plastic shower caddy. Otherwise, if you're looking for portable bath caddies, I recommend you to look at its counterpart – the Mayin LLC Mesh Shower Tote.
Putting the comparison in other words, purchase the InterDesign Orbz if you're staying in a place that has community bathrooms in the long term like in college. Otherwise, purchase the Mayin, LLC one if you're in it for the short term like a quick business journey or a trip to the gym, and you want the option to place your shower tote in a bag. Either way, it just boils down to your preference if you want a solid plastic shower caddy or a flimsy-like one.