In the industry of corner shower caddies that are "tension-powered", the tension is, well, the most important aspect. If the corner tension shower caddy's tension falters or weakens even for just a second, you might just find your shower essentials scattered all over your shower floor, or worse, your glass shower enclosure fractured because a bulky and heavy shower caddy fell on it.
A tension corner shower caddy that can provide unwavering tension throughout time is the InterDesign York. If you haven't guessed it yet, the InterDesign York carries the patented Constant Tension Technology. Constant Tension means that this corner shower caddy brings consistent and strong tension despite the length of the pole.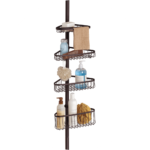 The company, InterDesign, is no stranger to Shower Caddies INFO as one of its products has already been reviewed on the website – the InterDesign Orbz Shower Tote. But just for a recap, InterDesign is an American company born last 1974. One of its company's purpose is to sell innovative home products at a reasonable price. Aside from its bathroom accessories and organizers, InterDesign also manufactures and retails kitchen and other storage-related goodies.
The InterDesign York has four adjustable and different-sized baskets where you can fit all of your shower essentials of all shapes and sizes. You have three big bottles you bought at wholesale outlets. You can fit those. You have just six little bottles of shampoo and conditioners that you brought home with you on your last business or vacation trip. Yep, you can fit those. Lastly, you have seven soap bars even though you don't need the other six. Yes, you can place them in of the shelves in this tension corner shower caddy.
Other than its adjustable and different-sized baskets, one of the shelves of the InterDesign York features a towel holder where you can hang your washcloths and mini towels. Additionally, there is also a basket/shelf where there are two nifty razor holders where you can hang your regular razors.
| Classification | Dimensions (in.) | Weight (lbs.) | Latest Price |
| --- | --- | --- | --- |
| Tension Corner | 24.50 x 14.50 x 11.60 | 03.20 | VIEW AT AMAZON |
The InterDesign York tension corner shower caddy also come in three variants – bronze, satin, and silver. The most common one and the most affordable is the bronze one.
You can fit the InterDesign York to any regular-sized bathroom as its tension pole is adjustable to five (5) to nine (9) feet. Additionally, it has non-skid feet to prevent it from sliding or slipping on your bathroom's floor.
What's interesting about the InterDesign York is that it surprisingly doesn't rust. It has been mentioned before in other shower caddy reviews in this website that rusting is a major red flag to any shower caddy, regardless of the type. If it rusts, it's an automatic one-star deduction from its overall rating. But this shower organizer doesn't rust! The InterDesign York's "Durable Rust-Resistant Finish" and "ThermoBond Coating" may be the reasons why.
The pros of the InterDesign York below are in no way paid or sponsored by the manufacturer. Instead, they are merely curations of information the Internet, particularly Amazon reviews.
It does what it does. Several, or a lot, of reviewers in Amazon praised how the InterDesign York fulfills what's promised beautifully. First and foremost, it's a tension corner shower caddy that's advertised as one that will not fall off from where it's placed, and it does that job effortlessly through the patented Constant Tension Technology feature that the shower organizer carries. Secondly, it said in the product description that the shower organizer is rust-resistant due to its finish. Guess what? It is as proved by the fact that there are almost no complaints in Amazon that the InterDesign York rusts!
It's beautiful. The InterDesign York seems to fit perfectly bathrooms that have a contemporary or even a chic feel in it. What's cool is that the bronze variant of this tension corner shower caddy seems to fit with any bathroom motif. Moreover, the different-sized baskets or shelves adds variance to its aesthetics aside from its useful storage functions that can fit almost any bath essentials you throw at it.
Like the pros above, the con of the InterDesign York below is in no way endorsed or paid by the manufacturer. They are merely curations of information gathered on the Internet, especially from Amazon online reviews.
Requires assembly. The downside of the InterDesign York, or any tension corner shower caddy in the same perspective, is that it requires assembly or installation. Unlike other types of shower caddy like the over-the –showerhead and –door ones which are just simply installed by placing it where you want it to be placed, tension corner shower caddies asks you every time to read a manual, do a lot of twisting and turning, and use tools in some cases.
However, there are tension corner shower caddies which aim to solve these assembly problems by inventing new technology that streamlines it. One of those is the Zenna Home 2130NN. The 2130NN is also one of the InterDesign York's closest competitors.
There are also instances where the assembly process seems to get tricky as proved by one specific Amazon review. The review is quite long, but the starting sentence summarizes his or her point: "This product looks SO simple to put together, yet it took me about three days to complete. That's about 20 minutes a session before I got frustrated and gave up each time."
The InterDesign York is rated five out of five stars overall because it does what it does – it's a corner tension shower caddy that holds and doesn't rust. What's more is that it looks awesome and is very functional due to its different-sized shelves. What more can you ask for a shower organizer like that?
But a side note, it's not a little bit budget friendly because this thing costs more than your average shower organizer you can find on the market today. But if the quality can justify the price, why not? You're better off investing in a high-quality shower caddy than spending money every three months or so purchasing a new one because the last one you purchased doesn't fulfill its job right or it rusts.
Click here to view and see the price of the InterDesign York in Amazon. Alternatively, you can also view and see the price of the mentioned shower organizer's closest competitor – the Zenna Home 2130NN right in Amazon also.