A shower tote is a college or dorm shower caddy wherein you can easily move all your shower essentials to and from your dormitory and the college community bathroom. A bath tote is particularly useful not only when you're in college, but you can also use it when you're traveling or in a gym. Aside from the convenience that a shower tote brings, it can also help prevent the spread of germs resulting from placing your shower materials on the community bathroom's floor. Perhaps one of the best portable shower caddies you can find regardless of whether you're in college, traveling, or just working out in a gym is the Mayin Mesh Shower Tote.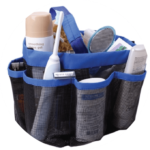 The Mayin Mesh Shower Tote is available in three color variants: blue (even though the product page says the color is black), purple, and green. The image included in this review and the one being reviewed is the blue version of the bath tote.
The main selling point of the Mayin Mesh Shower Tote is that it's made of high-quality mesh. An open mesh component makes air pass through that minimizes the event of mold or mildew accumulating. Compared to other bath totes that are enclosed by fabric, you're better off choosing or having one that is made of mesh. Furthermore, the bath tote is completely rustproof because it's completely made of an all mesh material.
| Classification | Dimensions (in.) | Weight (lbs.) | Latest Price |
| --- | --- | --- | --- |
| Shower Tote | 09.00 x 08.00 x 18.00 | 00.25 | VIEW AT AMAZON |
Another thing that makes the Mayin Mesh Shower Tote such a good buy is its pockets. Compared to other products available in the market, the mesh shower caddy is made up of one big pocket and eight ample-sized pockets for all your bathroom essentials. You can fit in the large pocket your bulky shower materials like big shampoo and body wash bottles and also your loofahs and washcloths. On the other hand, the eight pockets sized just right can fit your facial wash containers, hair brushes, deodorants, razors, toothbrushes, and toothpaste. There is no bath essential you can't fit in the bath tote's pockets (with the exception, of course, of large Costco bottles)!
All Pros for This Shower Tote?
There is a pros and cons section for a shower caddy review. But on this shower caddy (or bath tote in this review's perspective), it's all pros because it's like comparing the product when buying a mug. When you buy a mug, you get what you paid for, right? Your main basis of judgment whether this mug is rated five stars over five is how it fulfills its purpose. You want a mug that will hold liquids your drink, and if that mug does that, it's rated five stars over five for you.
The mug comparison is the same for the Mayin Mesh Shower Tote because consumers want a product that will reliably hold their shower essentials with no frills and the mesh shower caddy fulfills that purpose. That's why you can always see positive reviews for the mesh shower caddy in Amazon. The only time you will see a little bit of negativity is on the consumer's preference. For example, the consumer "feels" that the product is a little bit flimsy, or the product is a little bit roomy that's why he or she has a negative product review.
Possibly the only pro that could be attributed in the Mayin Shower Tote is its price. Currently, in Amazon, it is priced less than most of the competitors, but the product is seemingly the same in quality and workmanship. It's a complete bang for the buck.
Overall, the Mayin Mesh Shower Tote is rated five stars over five in this mesh shower caddy review because it does what it does – it carries your bath essentials dependably without fail. Plus you have various colors to choose from – blue (not black), purple, and green depending on your taste.
Click here to view or purchase the Mayin Mesh Shower Tote in Amazon. Otherwise, you can also look at its closest competitor at a little higher price point – the ShowerMade Bath Tote.