If you're in the market for wooden hanging shower caddies, and you find AquaTeak's over-the-showerhead teak wood shower caddy quite expensive, you may want to take a look at the Umbra Shamboo. The Umbra Shamboo is made of, as the name suggests, bamboo. It's perfectly understandable why this Umbra Shamboo is more affordable than its AquaTeak counterpart because bamboo is a notch lower than teak wood regarding durability and water resistance. But nevertheless, bamboo is still a good option since it has that natural ornamental characteristic plus it's more eco-friendly to buy bamboo-made products than teak wood.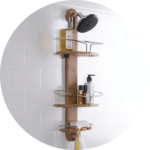 The company who made the bamboo shower caddy is Umbra. With over 30 years of extensive experience in the houseware industry, the Toronto-based Umbra is recognized all over the world for bringing intelligent designs to everyday and ordinary household items. Included in their product offerings are bath, furniture, and kitchen solutions that are sold in over 120 countries worldwide.
Judging from the product images provided, it may seem that the Umbra Shamboo is quite long due to its thin vertical frame. But in fact, it's only about three inches longer than the AquaTeak Spa Teak Oval Shower Organizer and six and a half inches longer than the Zenna Home 7402AL.
| Classification | Dimensions (in.) | Weight (lbs.) | Latest Price |
| --- | --- | --- | --- |
| Over-the-showerhead | 28.00 x 05.00 x 11.80 | 03.50 | VIEW AT AMAZON |
The Umbra Shamboo features three shelves. Two of the three shelves are ample-sized and can fit huge shower essential bottles. The top shelf has two holes at its base where you can place bottles upside down for an ala-dispenser feature. Meanwhile, the third and last shelf is obviously dedicated to your soap bars. There are also wood hooks below the soap holder where you can hang your loofahs and washcloths. Additionally, you can place your razors on the gaps provided in the middle of the bamboo shower caddy.
What's surprising about this hanging shower caddy is that it is made by a designer. On its Amazon sales page, the Umbra Shamboo is said to be created by an Argentinian designer named Luciano Lorenzatti. Upon further inspection, Umbra has more than 12 designers under its belt that help create its beautiful products.
The fact that Umbra states its designer/s for a particular product even though they're not normally a person that people will naturally know of really shows that Umbra has a brand behind their product. It may sound confusing, but think of it at this way – won't you buy a product that has not only the name of the brand but the name of its creator as well on its product information rather than just the name of the brand on it? Many of us will buy it because it sounds classy and elite. Think of brands co-branding with celebrities.
For the Umbra Shamboo pros, equal inputs from online sources, with the bulk coming from Amazon reviews are gathered to complete it. The items stated below are not in any way aid by Umbra or Amazon
Beautiful design. An equal amount of reviews in Amazon said with high praises on how the Umbra Shamboo looks and how it's built. One specific Amazon reviewer stated that the bamboo shower caddy made his or her shower experience luxurious and spa-like. Who couldn't argue that the Umbra Shamboo looks chic and fit for anyone who wants to turn his or her bathroom into a spa?
Well-constructed. Like the Better Houseware Deluxe Chrome Shower Caddy or any prominent hanging shower caddy manufacturer for that matter, the Umbra Shamboo is well-built. An Amazon review said that the construction is solid. Furthermore, the same review added that all of the bamboo shower caddy's shelves are stable, the metal is seated well, and the rubbery bits of the hanging shower caddy were both in no danger of being ripped out. Moreover, and a plus, the hanging shower caddy banners a silicon grip stopper at the hook for the showerhead to keep it from sliding or slipping.
The Umbra Shamboo's cons are just like the good old regular cons of other hanging shower caddies plus the fact that it is made from wood makes it vulnerable to certain types of fungus.
It rusts! Even though the hanging shower caddy being reviewed is majority made up of bamboo, it still has some metal parts. A review in Amazon specifically complained about how the Umbra Shamboo's metal parts rusted just after few weeks after purchase. On the other hand, there are also some reviews stating that they have not experienced rust on their bamboo shower caddies even after quite some time. This just goes to show that water quality and even the humidity in the bathroom may be contributing factors on why shower caddies that have steel parts rust, and quickly in some cases.
The mold problem. Because the hanging shower caddy is made of bamboo, and we all know bamboo is an organic matter even though it has been artificially processed for furniture and other decorative materials, it's still prone to fungus, and the Umbra Shamboo is no exception. Fungi thrive in humid areas that get a lot of moisture, and inside the bathroom is the perfect example that showcases that two favorable factors for the organism. To prevent mold from living on furniture and ornaments made from wood, manufacturers often spray a special substance to coat the product while maintaining the color and presentability of it. It's still not confirmed if the Umbra Shamboo performs this practice for the current batches of the hanging shower caddy, but the fact remains that there were complaints that the same bamboo shower caddy was vulnerable to mold.
If you want the functionality of a slim over-the-showerhead shower caddy without caring much for the aesthetics, the Umbra Shamboo might be the one you're looking for. Otherwise, if you care about mold and rust forming on your hanging shower caddy (who doesn't?) ruining your day once you see a glimpse of them while taking your morning shower, it's recommended to look at other alternatives.
Since the hanging shower caddy rusts and is prone to mold, the Umbra Shamboo is rated three stars out of five. Frankly, this bamboo shower caddy is hands down one of the most beautifully-designed hanging shower caddies in the market with its unique material and structure. However, the positive things mentioned were overshadowed by the things that ruin its strengths – mold and rust.
Take a peek at the latest price of the Umbra Shamboo Bamboo Shower Caddy at Amazon. You can also view one of its closest competitors at Amazon – the AquaTeak Teak Over-the-Showerhead Shower Caddy also at Amazon.