The Zenna Home 2104W is not your ordinary tension corner shower caddy. For one, its body is made up of two materials – metal and plastic, which is both an advantage and disadvantage at the same time. The Zenna Home 2104W's metal component, its tension bar, helps it stand sturdily upright. On the other hand, its plastic component, the shelves, help maintains a rustproof setting. But, subsequently, having plastic shelves also has its downsides – it's prone to bending, and it has this "cheap" feel to it.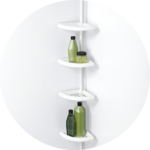 The company that made the Zenna Home 2104W tension corner shower caddy, Zenith Products Corporation, has already a long line of manufactured products reviewed on this website, and among them is the recognized Zenna Home 2140AL. Other than shower caddies, Zenith Products Corporation also manufactures a wide array of bathroom solutions like shower curtains, medicine cabinets, and even bath furniture. With its focus being bathroom solutions, you can be sure that Zenith Products Corporation produces quality products in that space.
The Zenna Home 2104W is only available in one color – white, which is a little off from Zenith's standard shower caddy color scheme that revolves on satin chrome.
Additionally, the tension corner shower caddy has four (4) plastic shelves of the same size and has holes at the bottom so that water won't accumulate on the shelves. The upside of having plastic shelves is that it will not rust guaranteed (duh), but conversely, the downside is that the shelves may bend if there are shower essentials placed on it that are heavy, like big shampoo or conditioner bottles.
Just a segue – on the Zenna Home 2104W's product page in Amazon says that the caddy's plastic shelves are rustproof and self-draining. At first glance, it may be an innocent sentence, but looking at it further, you will see that there is something wrong with the logic. It got me into thinking if the copywriter that made the sentence is still with Zenith Products. Just kidding.
The Zenna Home 2104W's shelves are also adjustable from the get-go so you can fit almost all shower essentials with different heights on the shelves, provided that they fit and the plastic caddy can hold everything, of course.
| Classification | Dimensions (in.) | Weight (lbs.) | Latest Price |
| --- | --- | --- | --- |
| Tension Corner | 97.00 x 07.10 x 10.50 | 02.50 | VIEW AT AMAZON |
The most important part of a tension corner shower caddy is the part that separates it from the hanging shower caddy types – its tension rod. The Zenna Home 2104W's tension rod is made of metal and is coated with enamel to prevent rust or chipping. Moreover, the corner shower caddy's tension rod can be extended to fit standard ceiling heights, and up to 8 feet in height and aside from the shower, the tension rod can also be mounted on the sides of bathtubs. There are also rubber "stoppers" at the end of each pole to prevent the tension corner shower caddy from slipping or sliding.
Listed below are the pros of the Zenna Home 2104W tension corner shower caddy. The pros below are in no way sponsored by Amazon or Zenith Products Corporation.
Does not rust. The Zenna Home 2104W has plastic shelves (which are automatically rustproof) and has a tension rod that is coated with enamel to prevent rust or chipping. One Amazon user stated that the shower caddy could withstand humid areas easily with no signs of rust, so it's safe to say that this corner shower caddy is rustproof.
Adjustable shelves. The tension corner shower caddy's adjustable shelves will give you the freedom and flexibility to fit almost all kinds of shower essentials, from small soap bars to large bottles of shampoo and conditioner, that fixed-shelved shower caddies won't. If you are many in the family or if you have a huge collection of shower materials, you will greatly benefit from the Zenna Home 2104W.
Ease of assembly (5-minute assembly). What's better than the Zenna Home 2104W's rustproof quality and adjustable shelves? It's the ease of assembly! Perhaps a feature in all Zenith Product Corporation's tension corner caddies, there is no need for tools and drilling to assemble Zenith's tension corner caddies.
On the other hand, listed below are the cons to the Zenna Home 2104W tension corner shower caddy. As the same, the cons are in no way sponsored by Amazon or Zenith Products Corporation.
Plastic shelves. Sure, having plastic shelves has its pros, but it also has its cons too. Plastic shelves may have the tendency to bend if you place heavy shower essentials on it unlike those made of metal or steel. A prolonged bent plastic shelf may not only lessen the lifespan quality of the shelf, but it's also a sight for sore eyes especially that the Zenna Home 2104W is colored white.
A better way to visualize if it fits. A lot of Amazon questions and reviews revolve around the question if the Zenna Home 2104W will fit my bathroom. There are questions asking what the minimum height of the tension corner shower caddy is and there are frustrated one-star Amazon reviews that say that they made a mistake buying the product because it does not fit their bathroom. Maybe Zenith Products Corporation needs to create a visual material, sort of like a buyer's guide, to help their customers choose the right tension corner shower caddy.
Better instructional medium. Even though the Zenna Home 2104W is easy to assemble since it does not need the use of tools to install it in your bathroom, the assembly process is a little bit tedious for some, even with the instruction manual in hand. Just a suggestion, maybe Zenith can also revamp their instruction manuals for tension corner caddies into something better, or maybe upload instructional videos so that their customers can visualize the assembly completely.
With the pros and cons taken into consideration, the Zenna Home 2104W is rated five out of five stars overall. It's a great tension corner shower caddy that is rustproof and has adjustable shelves. It may be hard to assemble at first, and the plastic shelves may tend to bend when there are heavy bottles place on it, but it's rustproof and adjustable shelves advantage simply outweigh the cons.
Click here to learn more about the Zenna Home 2104W on Amazon (and to take a look if it's on sale also). Subsequently, you can also take a look at the other tension corner shower caddies in this website, namely the InterDesign Tension, mDesign Corner, and Zenna Home 2104W's sister, the Zenna Home 2130NN.