Perhaps the most famous over-the-showerhead or hanging shower caddy is the Zenna Home 7402AL, NeverRust Aluminum Shower Caddy. With an average 460+ reviews in Amazon, the Zenna Home 7402AL is (or was) ranked as the best shower caddies in the e-retailer's shower caddies category.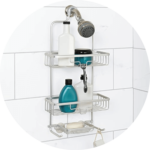 But before we dive into the product, let's learn more about the creator of this awesome product briefly. Zenith Products Corporation (ZPC) was founded in the 1940s in Philadelphia just after World War II. Before it pioneered the bath storage and organization industry, it was first making window boxes and small cabinets. Today, with its headquarters relocated to Delaware, ZPC always envisions to bring you the best and most beneficial products for your home.
At first, when I haven't researched anything about ZPC, I was a little skeptical about the perception that they're just cheap China manufacturers who happen to find their way into Amazon. But with a little research, that perception changed radically when I learned that ZPC has decades of experience in manufacturing quality bathroom products under its belt. Out of all the shower caddy manufacturers, ZPC, for me, is the most trusted to deliver what's promised.
| Classification | Dimensions (in.) | Weight (lbs.) | Latest Price |
| --- | --- | --- | --- |
| Over-the-showerhead | 22.50 x 04.80 x 11.00 | 01.60 | VIEW AT AMAZON |
The hanging shower caddy is one of the three variations of the similar make, namely double shelf, double shelf with inserts, and double shelf with soap dish. The Zenna Home 7402AL is the final option with the double shelf with soap dish feature. The shower storage only costs a few cents more compared to the other variants, but you get a nifty soap dish.
The Zenna Home 7402AL is primarily made of aluminum and has two baskets at the bottom to keep your bathroom materials within your reach. Additionally, there is also razor storage handily added at the front of the hanging shower caddy where you can place your, well, razors. Suction cups are also provided for that extra stabilization perk. The Zenna Home 7402AL only comes in one finish – satin chrome.
I have my personal experience with the Zenna Home 7402AL shower caddy as it was the first shower caddy I bought, and I'm currently using it until today. It works completely as advertised because first and foremost, it never rusts due to the hanging shower caddy's NeverRust technology. Actually, ZPC takes their rustproof promise very seriously to the point that they offer a lifetime warranty against material corrosion. Moreover, the hanging shower caddy never slips or slides from my showerhead because it has this plastic to cause friction in the place where you hang it on your showerhead.
Below are the pros of the Zenna Home 7402AL shower caddy. Take note that what I'm saying is authentic, and I'm not directly paid by ZPC or Amazon to say anything listed below.
It never rusts! Primarily, the main unique selling point of the Zenna Home 7402AL hanging shower caddy is that it never ever rusts. ZPC's NeverRust caddies have been tested and proven to outlast and outperform all other shower storages against rusting. ZPC has complete confidence in its NeverRust innovation that they are providing lifetime warranties against corrosion on their product carrying the NeverRust name.
You can select different variants from the various shower caddy makes depending on your needs. I recommended for you to get the Zenna Home 7402AL shower storage, the one with the soap dish feature because it was the most logical option for me. However, at the end of the day, our bathrooms and bathroom essentials are different from one another. You can choose the first double shelf option if you have tall shampoo or body wash containers. Conversely, you can select the double shelf option with inserts if you want the shelves to have a solid base. Additionally, and as a disclaimer, these three variants also serves as a double-edged blade for the product because it also leads to a con.
Superb satin chrome finish. For me, the satin chrome finish of the Zenna Home 7402AL is so nicely done that I can't find any imperfections in its finish. Plus, the satin chrome color fits my bathroom's motif just fine.
On the flip side, below are the cons on the Zenna Home 7402AL hanging shower caddy. As the disclaimer in the pros section, I'm not directly paid by ZPC or Amazon to say anything listed below. But I'm sure they won't pay me either way because I'm going to say things that I don't like about their product.
Shelf wires bend. I'm keen on buying my bath materials in bulk so I won't have to go the supermarket once in a while and I tend to stock them on my hanging shower caddy. That's the scenario where I learned that Zenna Home 7402AL's shelf wires bend easily if you crowd that specific shelf with bathroom essentials. Note that I'm talking about the shelf wires of shelf's base and not the frame itself.
Not a one size fits all product. I think the reason why ZPC made three variants of the similar shower storage make is to cater to different users. But in my opinion, Zenna forgot users who want both worlds or a little bit of all the worlds. For example, I want to have a dedicated soap dish on my hanging shower caddy, but I also want to place large shampoo bottles on the shelves. I know I can't get the first option because it doesn't have that soap dish that I want, and I also know that I can't get the last option because it can't fit that large shampoo bottles I have.
Overall, I'm going to rate the hanging shower caddy five out of five stars with the reason being my shower caddy story. The Zenna Home 7402AL is the first shower storage I bought, and up until now, I'm still using it, and I'm still satisfied with it. Purchase this hanging shower caddy if you're looking to buy your first over-the-showerhead shower caddy and I'm sure you'll just be as glad you bought it like me.
Purchase the Zenna Home 7402AL on Amazon now or, if the Zenna product didn't cut your tastes, a perfect alternative would be Better Houseware Deluxe Chrome Shower Caddy.