When you don't want the hassle that comes with the assembly and installation of a tension corner shower caddy, you may want to opt to get a freestanding corner shower caddy instead. Shower Caddies INFO already reviewed one freestanding tension shower caddy, the simplehuman Corner, and in this shower caddy review, another good corner shower caddy will be scrutinized – the OXO Good Grips Stainless Steel Corner Standing Shower Caddy.
OXO started when its founder, Sam Farber, solved a very generic problem back in the days – his wife, Betsey, was having trouble comfortably holding her peeler due to arthritis. That got Sam Farber thinking: why do ordinary kitchen tools hurt your hands? Why can't there be wonderfully comfortable, easy-to-use tools? After that light bulb moment, OXO was born.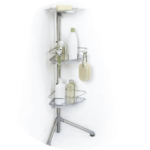 OXO started as a kitchen tool manufacturer (obviously) manufacturing ergonomically-designed contraptions. One such example of these transgenerational tools is OXO's iconic peeler. Today, OXO now manufactures more than 1,000 different kinds of products in all shapes and sizes that cover multiple areas of the home.
The OXO Good Grips Corner Standing features two large and adjustable capacity bins that can hold any shower essential you throw at it. Because it is adjustable, you can appropriate one bin or shelf to carry your large bottle-based bathing materials, like your conditioner and shampoo bottle, and the latter to accommodate medium-sized bathing essentials like your facial wash and shaving cream.
The shelves also have drainage slots below them so water can freely seep through and prevent accumulation within the shelf. What's more, and a plus for some is that there are bottle holes that allow the easy storage of bath essentials bottles upside down.
| Classification | Dimensions (in.) | Weight (lbs.) | Latest Price |
| --- | --- | --- | --- |
| Freestanding corner | 36.40.00 x 09.10 x 16.90 | 06.50 | VIEW AT AMAZON |
On the other parts of the corner shower caddy, the OXO Good Grips Corner Standing, like any other shower organizer these days, have dedicated holders for brushes, loofahs, poufs, razors, and washcloths.
Subsequently, the main noticeable thing between OXO Good Grips Corner Standing and the simplehuman Corner is that the OXO Good Grips Corner Standing has a shelf on top that is particularly useful for placing soap bars. Unlike the simplehuman Corner, you have a dedicated space for your bar of soap rather than placing it beside your other shower essentials which may prove to be inconvenient for some.
Other than the nifty top shelf that the OXO Good Grips Corner Standing has, it's another nifty feature is that the top shelf or tray that was first mentioned above slides back to your shower enclosure's corner, or any corner in the bathroom in the same perspective, for the ultimate stability. Additionally, it has non-slip bumpers to supplement that "ultimate stability".
It may not look like it on the provided images of corner shower caddy, but the OXO Good Grips Corner Standing is huge because it's 36 inches long. Moreover, its adjustable feet can be extended approximately 12 to 14 inches long, and it can be inclined to suit any slope in your shower area or bathroom.
OXO Good Grips Corner Standing Pros
The pros indicated below are just curated information on the OXO Good Grips Corner Standing. Unlike in the other shower caddy reviews on this website, the OXO Good Grips Corner Standing's pros came from judgments from facts instead from Amazon reviews. The reason why is because most of the Amazon reviews of the corner shower caddy seems sponsored.
Does not rust! Well, this one is one of the special few that are included in the certified no-rust shower caddy category. Many shower caddies claim to be rustproof, but only a handful deliver. Maybe it's because of the water quality or humidity inside the bathroom, or maybe it's because the user doesn't clean his or her shower caddy regularly. But no matter the reason on how or why the shower organizer rusted, the fact that it rusted is a red flag and a no-no to many consumers. Good thing that the OXO Good Gris Corner Standing doesn't rust!
Easy to install. Being a freestanding corner shower caddy doesn't mean that assembly and installation are not required. You still have to assemble it because you can't get the shower organizer assembled when you order it. Imagine the delivery fee repercussions of a 36+ inch package! But unlike its tension corner shower caddy sister, the freestanding corner shower caddy only requires a minimal amount of assembly. According to one review on Amazon that seems to be legit, the product was super-duper easy to install.
OXO Good Grips Corner Standing Con
Just like the pros disclaimer above, what's indicated in the con section are just curated information based on cold hard facts instead of the usual Amazon reviews.
A bit out of the budget. Priced above the usual corner shower caddy that you can find, the OXO Good Grips Corner Standing is a little bit expensive in the pockets. For you to imagine its price range, you can get the wooden AquaTeak Oval Shower Organizer for the same price point. But it seems like the price you pay for this shower organizer is for its quality. Let's face it; you need to shell out more money to get quality products these days, and the OXO Good Grips Corner Standing is one perfect example.
If you can afford the OXO Good Grips Corner Standing, it's very much worth the purchase. But if you're one of the conservative and thrift-seeker types, you're better off purchasing the closest thing to the corner shower caddy – the simplehuman Corner.
But just a little caveat, this corner shower caddy is big, and its legs are long. Don't get it if you have a cramped-up shower area or bathroom. One Amazon reviewer also suggested that the shower organizer is not fitted for bathtub use.
Overall, the OXO Good Grips Corner Standing is rated four out of five stars because of its superb aesthetics and function. Additionally, it also doesn't rust and is very easy to install. Its negative point, however, is that it's a little bit pricey for some.
Click here to view the detailed specifications and the latest price of the OXO Good Grips Stainless Steel Corner Standing Shower Caddy on Amazon. On the flip side, click here to take a peek at the simplehuman Corner of Shower Caddies INFO.