A corner shower caddy is quite different from other plug and play caddies like the over-the-showerhead and over-the-shower door ones because the majority of these shower caddies uses tension rods to keep them in place. One of the best shower caddies this 2019 that uses tension rods is the Zenna Home 2130NN Tension Corner Pole Shower Caddy.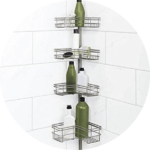 Again, like the 7402AL over-the-showerhead shower caddy, the manufacturer of this great product is Zenith Products Corporation or ZPC for short. ZPC has been in the bathroom accessories industry for more than three decades now and has produced countless quality and functional products that consumers are raving for. You can trust that the product you bought from ZPC will last a long time.
The Zenna Home 2130NN comes in a satin nickel finish. Subsequently, the shower caddy also comes with four large adjustable capacity baskets with slots for razors, hooks, and towel bars. Each of the four baskets has an open wire design at the bottom for easy drainage of excess water. Additionally, though the product is not under ZPC's NeverRust name, the Zenna Home 2130NN is said to be rust resistant. Lastly, and of course, the shower organizer has an adjustable tension pole that fits and space up to the standard eight feet and one-inch ceilings. Note that the minimum height for this product is measured at six feet and three ½ inches.
| Classification | Dimensions (in.) | Weight (lbs.) | Latest Price |
| --- | --- | --- | --- |
| Tension Corner | 97.00 x 08.60 x 12.00 | 05.20 | VIEW AT AMAZON |
There are also other Zenna Home shower caddies like the Zenna Home 2130NN but at different finishes: the Zenna Home 2132HB with an oil rubbed bronze finish, the Zenna Home 2125BN with a brushed nickel finish, and the Zenna Home 2132S with a chrome finish.
The most common problem why people somewhat avoid corner shower caddies with tension poles is because of the tension poles themselves. There is the underlying perception that tension poles are hard to set up and needs some power tools for it to be installed. But luckily, that is only a perception, and tension poles nowadays are so easy to install. In fact, the Zenna 2130NN has the easy TwistTight installation feature. In layman's terms, ZPC's TwistTight means that you don't need to use tools, and you don't need to drill any part of your bathroom; simply extend the pole to fit the space and twist to keep it firmly in place.
As a disclaimer, I don't own the Zenna Home 2130NN but what I'm going to do is to list the pros and cons depending on Amazon reviews on the product objectively so you can make a purchasing decision. Moreover, I'm not paid by ZPC to say anything below. Here are the pros:
Very easy to install. Like what the brand's TwistTight feature promises, the Zenna Home 2130NN is very easy to install. One Amazon review stated that it took him or her approximately less than 10 minutes to install the whole corner shower caddy. If you want a shower organizer with no frills regarding the installation procedure, the Zenna Home 2130NN is for you.
The Zenna Home 2130NN has lots of tension. Other corner shower caddies with tension rods tend to lose their tension after quite some time and will result in the whole shower organizer collapsing to the ground. Good thing that the shower caddy has lots of tension to hold lots of your shower essentials for a very long time.
On the flip side, below are the cons for the Zenna Home 2130NN. Repeatedly, I don't own the product, and I'm just objectively listing the cons based on customer reviews on Amazon.
Tends to rust. Even though the product is advertised as rustproof, it's still not completely resistant to rust compared to other ZPC's products that have the NeverRust name. Though the number of complaints that the corner shower caddy rusting is minimal, there are cases where it tends to rust quickly. One Amazon reviewer complained that his or her shower organizer rusted just after three months of use.
Probably too much tension. Admittedly, the Zenna Home 2130NN has lots of tension, but it's probably too much for some. Note that tension rods can damage and even puncture your ceiling if there is too much tension resulting from improper installation. Even though it's listed that the corner shower caddy is easy to install, there have been isolated events where customers said that the product was a little tricky to assemble.
Overall, I'm going to rate the Zenna Home 2130NN three out of five stars because it's affordable and a nifty shower organizer in some cases, but it tends to rust, and there have been some instances where the corner shower caddy is a little bit complicated to install.
The Zenna Home 2130NN is perfect for you if you want a reliable (sort of) shower organizer for beginners. Otherwise, if you're looking for better corner shower caddies, you're better off finding ones at a higher price range than this one.
View the Zenna Home 2130NN Tension Corner Pole Caddy on Amazon. Alternatively, you can also view the InterDesign York if you're looking for a good substitute at the same price range.