It is a given fact that bath totes or shower totes are essential when you're the kind of person that is always on the go, the kind of person who likes to take vacations frequently, and most importantly, the kind of person who lives in a dormitory or any place with a shared bathroom.
The most important function that shower totes help fulfill, and the one mentioned above, is that these products help people, especially college students (see: college/dorm shower caddies), living in dormitories or any place with a shared bathroom to accomplish their daily ritual of bathing in a clean and organized manner.
Shower totes provide hygiene because they help you keep your valuable shower essentials off the tiles or any part of a shared bathroom. You don't know what the last person before you touched before touching the place where you were supposed to put your shower essentials.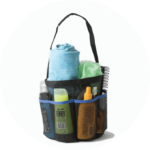 Secondly, shower totes organize your bathroom essentials with the help of strategically placed and sized pockets. You can place your bathing materials in the various pockets of the product while classifying them in any way you see fit.
Shower Caddies INFO as of the time of writing this review already scrutinized two bath or shower totes – the Mayin Mesh Bath Tote and the InterDesign Orbz. The first is made, as the name suggests, high-quality mesh while the latter is made of durable plastic.
In this review, another shower tote is put to the test in the form of the ShowerMade Bath Tote. The first two reviewed passed with flying colors because all of them captured a complete five over five rating from Shower Caddies INFO. Let's see if the ShowerMade Bath Tote pars up with the mentioned two.
There is not much information on the Internet about the ShowerMade company because first and foremost, it doesn't have an official website as of the time of writing. Secondly, they don't have social media accounts where you can learn more about a brand or service.
Upon further inspection of ShowerMade in Amazon, it only retails two products – the portable shower tote that is being reviewed right now and different kinds of tote bags. Furthermore, the seller-generated answer from a question in the ShowerMade Bath Tote sales page gave us a light that their products are manufactured from China. Other than those mentioned above, the complete company profile on ShowerMade is yet to be known.
Like the Mayin Mesh Bath Tote, the ShowerMade Bath Tote also has a mesh build. Moreover, it has a 20-inch long handle or hanging strap and three different-sized pockets, a far cry to the Mayin's eight pockets.
The advantage of a mesh shower caddy compared to non-mesh shower caddy types that use a so-so fabric is that mesh is breathable and quick-drying, meaning that mold or mildew won't accumulate in the body of the product. Additionally, a mesh is more durable than fabric, which means that your mesh shower caddy won't get torn easily.
| Classification | Dimensions (in.) | Weight (lbs.) | Latest Price |
| --- | --- | --- | --- |
| Shower Tote | 09.50 x 07.00 x 07.00 | 00.30 | VIEW AT AMAZON |
What's very intriguing about the ShowerMade Bath Tote is that the company offers a two-year no-questions-asked guarantee on the product. Usually, enterprises in the shower caddy or shower tote industry offer only a week or, in rare cases, a month of warranty coverage.
It's out of the blue scenario when a company offers a two-year warranty on a product that has a very low price point. Most consumers won't even expect a one-year warranty (let alone two!) on a product that is very much affordable.
But what's questionable is who do we turn to if we want to avail of this two-year warranty since ShowerMade has no official website or contact number publicly available on the Internet.
Nevertheless, the two-year warranty just goes to show how ShowerMade has complete trust in its product, that people who buy the ShowerMade Bath Tote will be highly satisfied… even though if it's just a shower tote.
ShowerMade Bath Tote Pros
Below are the pros of the ShowerMade Bath Tote. They are in no way sponsored by ShowerMade and are just a curation of consumer-generated reviews from Amazon.
It has a useful long strap. The 20-inch strap is very useful for hanging the ShowerMade Bath Tote on a faucet, the shower's knob, or just a doorknob in general. Like, who doesn't want to hang their shower totes? Nobody wants just to place their mesh shower caddies on the shower floor because you're avoiding putting anything on the shower floor in the first place! By the way, the Mayin Mesh Bath Tote also has a pretty long strap, but there is no information on its exact length.
Great mesh build. As mentioned above, the ShowerMade Bath Tote possesses a very sturdy mesh build. It's very advantageous regarding durability and lifespan compared to the fabric made. What's more, the ShowerMade Bath Tote's body is all mesh as opposed to other mesh shower caddies' bodies which are built on a mesh, but just on the sides and the rest is made of fabric.
It has a guaranteed two-year warranty! Perhaps the greatest "pro" of the ShowerMade Bath Tote is that it has a no-questions-asked manufacturer two-year warranty. Some shower caddy manufacturers don't even have the guts to provide an extended warranty on their products because, maybe, they just don't believe in it. On the flip side, the ShowerMade Bath Tote has a two freaking year warranty that proves that ShowerMade trusts that its product will deliver exceptional results.
ShowerMade Bath Tote Cons
Subsequently, just like the pros above, the ShowerMade Bath Tote's cons are in no way sponsored by the ShowerMade company but are just mere information collected from the Internet, especially from Amazon reviews.
ShowerMade is a questionable company. Normally, in these shower caddy and shower tote reviews, we scrutinize the companies behind it. On all the shower caddy and shower tote reviews we had so far, only ShowerMade had no website nor even just mere social media accounts. The credibility of the company is a little bit questionable, especially if they will fulfill their promised two-year warranty on their product.
Taking into account all the pros and cons, the ShowerMade Bath Tote is rated four out of five stars with a major plus point from its build and "promised" two-year warranty and minus points for the credibility of the company.
The ShowerMade Bath Tote is rated 4.8 out of five stars on Amazon. Typically, the high rating would also reflect in this mesh shower caddy review, but maybe they didn't take into perspective if the company will deliver the two-year warranty if ever the product conks out.
The high star rating in Amazon also means that almost all of those who bought are highly satisfied, and maybe, no one had issues with it that's why no one tested the warranty promise just yet. Until the time comes that an official ShowerMade website (not just a poser Amazon niche site) is up on the internet with their contact details, the ShowerMade Bath Tote will be rated four out of five stars on this review site.
Click here to view the up-to-date price of the ShowerMade Bath Tote on Amazon and to see if it the bath tote you've been looking for. Alternatively, you can also read the review on the closest thing to the ShowerMade product – the Mayin Mesh Bath Tote.