Aside from a tension corner shower caddy, another type of corner shower caddy are the freestanding ones. Though there are also freestanding corner shower caddies that are not specifically made for bathroom corners, the corner ones are the most popular. If you're looking for a quality freestanding corner shower caddy, the simplehuman Adjustable Corner Shower Caddy, Stainless Steel, and Anodized Aluminum is for you.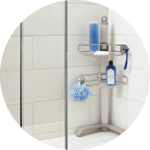 But before we dive into the product, let's talk about the company that made this amazing product first – simplehuman. simplehuman (purposely on lowercase) is a privately owned designer and manufacturer of kitchen accessories. Included in their array of products are trash cans, touch-free soap pumps, shower caddies, and sensor-activated vanity mirrors. If you think that a company that manufactures trash cans deserve praise, simplehuman's trash cans are considered among the most high-end cans in the market today due to the product's revolutionary sensor technology and explicit durability.
The simplehuman Corner is made of rustproof stainless steel with anodized aluminum. Anodizing is the process of turning the metal surface into a decorative, durable, and corrosion-resistant. Moreover, the product is under an incredible five-year warranty. It's amazing how generous simplehuman is in giving out this kind of guarantee, which only goes to show that they have complete confidence that their product will deliver its purpose to the consumer.
One advantage that the simplehuman Corner possesses is that it has adjustable feet specifically made for bathrooms with uneven floors. If you tried a freestanding corner shower caddy before just to figure out that it wobbles because your shower floor is uneven, you should try the simplehuman Corner out and see the difference that adjustable feet bring.
| Classification | Dimensions (in.) | Weight (lbs.) | Latest Price |
| --- | --- | --- | --- |
| Freestanding Corner | 30.50 x 08.50 x 13.20 | 03.00 | VIEW AT AMAZON |
The adjustable feet concept is very much functional because no shower floor is perfectly even. How do you expect the water to funnel through the drain effectively if the shower floor is even? The simplehuman Corner is one of the few corner shower caddies out there in the market with this nifty feature. Other notable corner shower caddies that have adjustable feet include the OXO Good Grips Stainless Steel Corner Standing Shower Caddy.
Other features of the simplehuman Corner are that it has adjustable shelves, a soap dish, a razor and toothbrush holder, and two convenient storage hooks for loofahs, sponges, and washcloths.
There is one big pro for the simplehuman Corner, and it will be listed below. Take note that I don't own the product but rather, I'm curating reviews on Amazon and providing unbiased points on the product for you to come to a purchasing decision. The pro below is in no way paid by simplehuman or Amazon.
Worth the price. The simplehuman Corner is a little bit on the pricey side, but the positive thing is that it delivers what's advertised 100%. This freestanding corner shower caddy is one of the few shower organizers in Amazon that garnered a ton of positive reviews from customers. A review on Amazon stated that they placed large bottles on the corner shower caddy's shelf, yet they were surprised that the shower organizer's shelf stayed right in place. Another review on the e-commerce website said that the adjustable legs are a nice touch to the product. Lastly, an Amazon review on the simplehuman Corner stated that the corner shower caddy lives up to its rustproof name as the reviewer said that he or she has been using the shower organizer for more than a year, and it's still rust free!
There is only one pro for the simplehuman Corner, but it's a really big one. Don't take having one pro is a bad thing, having one pro but a very good one will outweigh all the other small pros that a product may have. The fact that the simplehuman Corner fulfills its promise to provide you with the best corner shower caddy experience is reason enough to buy this awesome shower organizer.
Subsequently, there is also one big con for the simplehuman Corner based on an unbiased curation of Amazon product reviews. The con below is also likewise not paid by simplehuman or Amazon.
The simplehuman Corner does not fit in every corner. The super con for the simplehuman Corner is that, depending on the corner and the bathroom itself, it does not snugly fit in the corner because the corner shower caddy's shelves are too wide. Additionally and due to the shower organizer not nestling in your bathroom's corner, a gap is present between the simplehuman Corner's pole and the corner itself which may lead to a whole lot of other things like the shower organizer falling. Additionally, it's not perfect for bathtub ledges that are very narrow because one or both legs will be dangling in mid-air if you force it on a narrow bathtub ledge, and it won't look very pleasant plus there is still the risk of the simplehuman Corner tipping and falling over.
Like the simplehuman Corner's pro, there is only one super con for the corner shower caddy because it's perfect yet imperfect in some ways. The super con is that the shower organizer is not a one-size-fits-all type of product because there are still limitations like the dimensions of the simplehuman Corner and your bathroom's corner, and how narrow your bathtub's ledge is so the corner shower caddy will be perfectly wedged on it.
This simplehuman Corner is very much recommended if you have the space in your bathroom for a freestanding corner shower caddy. Remember that freestanding corner shower caddies tend to take a lot more space compared to its counterparts like the over-the-showerhead and over-the-door ones because it's situated on the shower floor. Moreover, this corner shower caddy is also a little bit pricey. Nevertheless, it's a must-buy for those who can afford since it's a good shower organizer. Because of the reasons mentioned, the simplehuman Corner is rated four out of five stars.
Buy the simplehuman Adjustable Corner Shower Caddy, Stainless Steel and Anodized Aluminum on Amazon or view its alternative in a higher price range – the OXO Good Grips Stainless Steel Corner Standing Shower Caddy.