Let's face it. We all have corners in our bathrooms that makes us think how I can turn this into something useful. Well, one of the best ways to utilize an unused corner of a bathroom is by turning it into something productive, like bathroom storage through a tension corner shower caddy.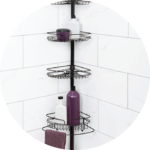 When looking for a good freestanding corner shower caddy, or any other shower caddy for that matter, it's important to look at the brand which manufactured the shower caddy. Does the brand have a proven track record of manufacturing shower caddies? Or better yet, does the brand produce innovative products? These two questions are some of the handfuls that will be answered in this explicit review of the Zenna Home 2132HB.
The brand that produced the Zenna Home 2132HB is no other than Zenith Products Corporation (ZPC). If you've read other reviews of the same shower caddy brand, like the Zenna Home 7446SS, Zenna Home 2104W, and Zenna Home 7803SS, you will notice that this shower caddy reviews website holds high regards for ZPC because of the quality products they make. ZPC is a USA-based manufacturer that produces not only shower caddies, but other bathroom essentials as well as medicine cabinets, shower rods, and bathroom furniture.
| Classification | Dimensions (in.) | Weight (lbs.) | Latest Price |
| --- | --- | --- | --- |
| Tension Corner | 97.00 x 09.50 x 12.60 | 01.60 | VIEW AT AMAZON |
Maybe the main edge of the Zenna Home 2132HB compared to other tension corner shower caddies is its capacity to hold heavy shower essentials on its baskets or shelves without bending. We have to admit that most tension corner shower caddies just won't cut it if we have a lot of shower essentials. What more if you have a growing family where each person will have their own shower essentials? Additionally, the Zenna Home 2132HB also boasts the trademarked TwistTight function where once does not need to use tools to install this tension corner shower caddy.
On the aesthetics side, the Zenna Home 2132HB has four (4) large, adjustable, and self-draining baskets, built-in razor storage, hooks, and a nifty towel bar at the bottommost basket. The Zenna Home 2132HB fits bathrooms with standard ceiling heights of up to eight feet and one inch, though according to its product page on Amazon, extensions are available for bathrooms with higher ceilings.
The Zenna Home 2132HB, which has an oil-rubbed bronze finish, also has sister models with each different in color and design – the Zenna Home 2125BN in brushed nickel, the Zenna Home E2130HB in plain bronze, the Zenna home 2130NN in satin nickel (already reviewed), and the Zenna Home 2132S in chrome. For bathrooms with a vintage or rustic theme, the oil-rubbed bronze Zenna Home 2132HB is a nice and functional addition to the bathroom.
Below are the pros of the Zenna Home 2132HB. The pros listed below are in no way paid or endorsed by Zenith Products Corporation (ZPC), Amazon, or any of its affiliates.
TwistTight works. As advertised, the Zenna Home 2132HB does not need any tools for assembly because of the trademarked TwistTight feature of ZPC, and that's what buyers of the tension corner shower caddy rave about in their Amazon reviews. The fact that you don't need tools make things uncomplicated so you can use your shower caddy right away. For something that seems perplexing, that needs drilling or screwing, and making it consumer-friendly, that's great product innovation!
Priced just right. A few of us consider around 40-60% of our buying decisions on the price and the Zenna Home 2132HB is one of the few tension corner shower caddies that is priced just right. It's not too expensive but the quality and functionality you get are better than most shower caddies in the same price range. It's also in the price range where a lot of people can buy it without affecting their budget too much.
On the other hand, below are the cons of the Zenna Home 2132HB. Likewise, the cons listed below are in no way paid or endorsed by Zenith Products Corporation (ZPC), Amazon, or any of its affiliates.
Too much tension. Not enough tension coming from the poles is a major problem since you risk your tension corner shower caddy falling to your bathroom floor and scattering your shower essentials. Too much tension is a problem also since it risks puncturing your ceiling, especially if it's a thin one. Though not overly considered as a major con, it still poses a problem for those who have thin drywall ceilings.
Rusting problem. The perennial problem of shower caddy owners is always rust. Frankly, there have been countless times where rust is listed as a con in a lot of the reviewed shower caddies. Rust is a problem, that's a fact we have to accept. But what's more disappointing is when a shower caddy says that it is rust resistant or rustproof but fails to deliver on the promise. The Zenna Home 2132HB says that it is made rust resistant due to its oil rubbed bronze finish but there have been numerous times where Amazon customers complained that it rusted, and in some cases, in less than three months.
Taking the pros and cons into consideration, the Zenna Home 2132HB is rated three out of five stars overall. It's a good shower caddy but not a great enough tension corner shower caddy for all, especially for those who are finicky with rust on their shower caddies. If you're sold on the Zenna Home 2132HB, click here to view it on Amazon for potential deals and discounts. If you would like to view other tension corner shower caddies, a great alternative for the Zenna Home 2132HB of the same brand is the Zenna Home 2104W.